Fonntraí Stage Shows
10 July 2007, 12:07 PM GMT
Cultúrlann na hÉireann – Visitors to Dublin and lovers of Irish traditional music will enjoy our series of Summer shows at Comhaltas Headquarters in Monkstown. Part of our nationwide "Seisiún" programme, these shows, called "Fonntraí", present some of the best performers in traditional Irish music. The shows run during July and August, Monday - Thursday at 9pm (There will be no show August Bank Holiday Monday - 3 August).
What is Fonntraí? Fonntraí is a unique entertainment experience for visitors and locals alike. The longest running stage show of its kind in Dublin (over 30 years), it features authentic traditional entertainment as enjoyed by Irish people from generation to generation. Fonntraí regularly gets comments from visitors such as "this is what we really came to Ireland to experience" and often can be the highlight of their holiday.
The stage show starting at 9.00pm, consists of Irish music, song and dance (first half) and is followed by light refreshments (tea and scones).
An informal traditional session then follows where the visitors are encouraged to participate if they so wish – this involves simple Irish dances such as Siege of Ennis, etc and a song or two.
Where are we? Getting to the Cultúrlann is easy:
Take the DART train to Seapoint Station and walk (about 5 minutes)
Take the 7A Bus from city centre, and get off at the stop before Monkstown
Take a 15-minute taxi ride from the City Centre to 32 Belgrave Square
Who says there's a Recession? Fonntraí is one great way of counteracting the current economic gloom and is very reasonably priced with admission charges as low as €10. Concessions are also available for larger groups. Bookings or enquiries should be referred to us by phone on 01 280 0295 or by email at [email protected].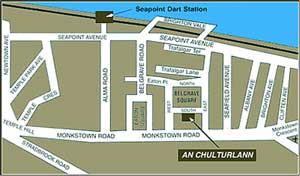 For additional directions and information, call us at +353 1 2800295 or send an email to enquiries@comhaltas.com.
Posted By other
[Leave A Comment]