Cultúrlann na hÉireann
Contact
32 Belgrave Square
Monkstown
Co. Dublin
+353 1 2800295
Features
Music Classes
Music Sessions
Singing Classes
Céilí or Set Dancing
Links to other Branches
Performance Hall
Classrooms
Archive
Bar
Shop
Conference Rooms
Recording Studio
Comhaltas Headquarters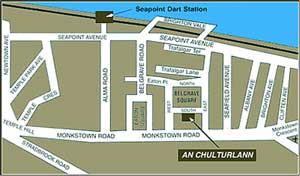 Cultúrlann na hÉireann (an Irish Cultural Institute), home to Comhaltas Ceoltóirí Éireann, was established in 1976. This ambitious venture, driven by the vision and energy of its founder members, was fully justified by the vast range of services and facilities now available at the Cultúrlann, which include:
Cultural Information Agency
Training and Education Centre
Library of books and archive of traditional recordings
Recording Studio
Classrooms
Administrative Headquarters
Geantraí Folk Theatre (Concerts, Stage Shows, and Céilís)
Bar Sessions (Tuesday, Wednesday, Friday & Saturday nights)
Shop (Books,Tapes and CDs)
Staff are available to deal with day-to-day queries from tourists, students, and Comhaltas members in Ireland and throughout the world. Personal visits to the Cultúrlann by members and their friends are particularly welcome.
Many Irish traditional music and dance events take place in the Cultúrlann; you can find out more from these pages, or by calling us on +353 1 2800295.
Archives
Browse the Comhaltas Traditional Music Archive online at http://comhaltasarchive.ie
Comhaltas Ceoltóirí Éireann has one of the most valuable national archives of traditional music and song in the country. This collection, housed at Cultúrlann na hÉireann, contains over 4000 hours of edited priceless material, which is being added to regularly.
Much of this material was collected over the years by An Timire Ceoil, Séamus MacMathúna. It reflects the many talents and styles of the various regions of the country and the Irish community abroad.
Information on celebrated traditional performers is available in Billeog Eolais format from the Comhaltas website. This will be of particular interest to students taking part in the SCT traditional music examinations.
The Ardchomhairle have initiated a campaign to establish Regional Archives both in Ireland and overseas. The County Clare Archive is located in Ennis at Cois na hAbhna. Others will be located in Counties Westmeath, Tyrone, Sligo, Kerry, Wexford and Tipperary. Britain and North America will also set up archives, and material will be exchanged between the national and regional centres. This initiative aims to ensure that archive material will be more easily accessible for students and others in the regions. It will also help to highlight the regional significance of our native traditions.
Regular Meetings